Motiongate Dubai – Your Next Must-See Destination
Introduction:
Dubai is a city that has gone from a mere small desert port city to a major trading hub in just a few decades. Today, it is one of the best cities in the world in terms of infrastructure and per capita income and houses some of the richest people in the world.
Dubai is most famous for its ultra-modern architecture and lively nightlife as well as for its skyline filled with skyscrapers such as The Burj Khalifa and the world's only 7-star hotel, The Burj al Arab, and for its scores of artificial islands. Every year, millions of tourist visit Dubai just to get a glimpse of this magnificent city.
Motiongate in Dubai is the biggest Hollywood-inspired theme park in the entire Middle East. It brings together three major Hollywood studios like nowhere else, i.e. DreamWorks Animation, Lionsgate and Pictures Studios as well as The Smurfs. Furthermore, Motiongate was opened for the general public in December 2016 and since then, has seen millions of visitors annually. It is operated by Dubai Parks and Resorts. The main attractions of the theme park are more than 30 in number as well as 5 different roller coaster rides and 1 water ride.
How to Get to Motiongate Dubai
There are several ways that you can get to Motiongate from the airport and you can choose between them depending on the price and time which suits you best.
Also Read: Dubai Aquarium
1. Book a cab
You can book pick and drop services online such as Uber or Careem or any other local one. A one-way trip in an Uber will cost you around $40 to $60 depending on the peak hours and is an effective method if you are traveling in a group or if you have a lot of heavy luggage.
2. Get a Towncar
You can get yourself a towncar service from Jayride which provides services that run regularly on the routes from the Airport to the Motiongate.
3. By Driving Yourself
If you have a private car, you can drive it yourself from the Airport to Motiongate. On average, it will take you around 42 minutes to travel the distance of 60 kilometers.
4. By Metro
If you feel comfortable and don't mind a comparatively longer ride, you can take the Red Line Metro Service from Terminal 3 which will take you to Jebel Ali, which is the closes station to Motiongate. From there, you will have to take a taxi ride to MotionGate. It will take you a total time of 1 hour and 3 minutes from the airport to Jebel Ali and a further 21 minutes in a taxi to Motiongate. Furthermore, the train ride will cost you a maximum of $2 (AED 7) and the taxi ride will cost you between $10 to $14 (AED 40 to AED 60).
5. By Bus
This is the last method that you can use to get to Motiongate. You can use the Red Line to get from Terminal 3 to Burjuman Metro Bus Stop A from where you will have to transfer to Bus No. 91 and get to Jebel Ali Free Zone, Kanoo Group. From here, you will have to take a taxi ride to Motiongate.
The ride from Terminal 3 to Burjuman will take you around 10 minutes to get to Burjuman Metro Bus Stop A and cost you a maximum of $2 (AED 7). From there to Jebel Ali Free Zone, you will have to travel for another hour and will have to pay a maximum of $4 (AED 13). Finally, the taxi ride will cost you around $10 (37).
Best Time to Visit Motiongate
The time between November and March is considered to be the best time to visit Motiongate and that is because of the weather, which is comparatively cooler than the rest of the year. Furthermore, it will take you only 4 to 5 hours to get done with your entire tour.
Never to Miss in Dubai, The Garden Glow Park
Different Areas:
The park has been divided into several different areas based on their location and their specific theme and studio designation.
1. Studio Central
First of all, we have the main entrance of the park which includes several different shopping and dining facilities all of which are themed around Hollywood.
2. Columbia pictures
Now, we have areas divided for different studios. Each studio will feature its attractions and themes in its area. In Columbia Pictures Studio, we have different attractions all of them based upon Columbia Pictures productions such as Hotel Transylvania, Ghost Busters, Zombieland, The Green Hornet, Screen Gems' Underworld, and Cloudy with a Chance of Meatballs.
3. Dreams Works
Similarly, this studio also has its specific area where it features its themed productions such as Madagascar, Kung Fu Panda, How to Train Your Dragon, Trolls, and Shrek.
3. The Smurfs Village
As evident by the name, this village is themed on the famous animated show the Smurfs.
4. Lionsgate
Lastly, we have the main attractions from Lionsgate productions. This area of the theme park features only two rides, an adaptation from The Hunger Games film adaptation franchise and a stage show that is based on the Step Up film series.
Motiongate Timings
You can visit the park from 12:00 noon to 9:00 pm from Saturday to Wednesday and from 12:00 noon to 10:00 pm on Thursday and Friday.
Make sure that you leave the park 30 minutes prior to the closing time since all attractions and rides in Motiongate close then.
Main Attractions
Now, I will tell about what main attractions each of these areas hold for the visitors. Each area is designed specifically to represent the productions and themes of that specific studio.

Also Read, Dubai Creek Park
Columbia Pictures
The main attractions from this studio include Zombieland Blast-off (ride with a drop tower), The Green Hornet: High-Speed Chase (a Gerstlauer Bobsled roller coaster sure to leave you baffled), Hotel Transylvania (a trackless dark ride with a spooky theme and with frequent jump scares), Underworld 4D (a 4D show that will make you feel as if you are part of the animations themselves).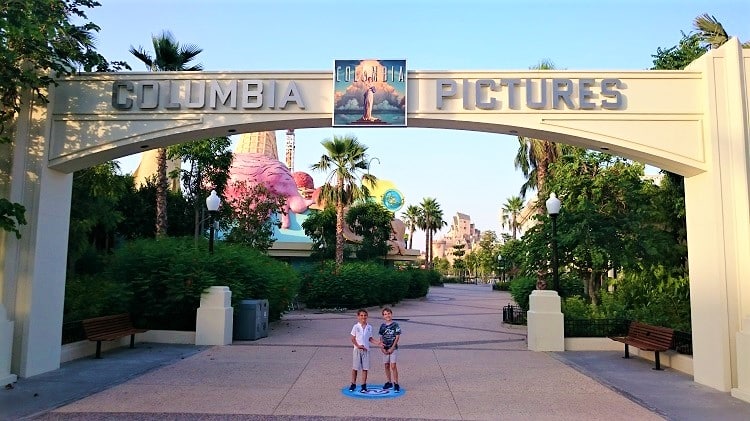 After these, there are several attractions specifically for children of age 15 and under, such as Ghostbusters: Battle For New York, a 3D interactive shooting dark ride game in which children compete to save the city), Flint's Imagination Lab (aimed at providing your child with an exciting interactive game-play experience) and lastly, water-based Cloudy with a Chance of Meatballs: River Expedition.
DreamWorks Animations
This studio has the following several main attractions;
Dragon Gliders ( a thrilling roller coaster ride), Shrek's Merry Fairy Tale Journey, Madagascar Mad Pursuit (a roller coaster experience), Camp Viking, Melman-Go-Round (Carousel ride), Lagaan carousel, Penguin Air, Swamp Celebration, Kung Fu Panda Academy, Mr. Ping's Noodle Fling, King Julien's Side Show Stomp ( enjoy the live performances of the best crew in Madagascar), Kung Fu Panda, The Swinging Viking – a pirate ship ride, Operation Penguin Shake, Fountain of Dreams.
The Smurf Village
This animation themed area has the following main attractions; Smurf Village Express (an age-appropriate roller coaster ride for children), Smurfs Village Playhouse (an interactive live animated show), Woodland Play Park (a play area in the open), Smurfs Studio Tours, Smurfberry Factory (a children's play area).
Lionsgate
Capitol Bullet Train (a roller coaster ride), Panem Aerial Tour (Experience how magical a 4F hovercraft motion feels like), Step up Dubai, All In! (A live performance meant to give you a soothing experience and release your nerves of stress).
Lionsgate has a comparatively lesser number of attractions than the rest, but it is working on increasing these number and other there are a few under construction attractions which will hopefully be opened very soon, i.e. You See Me: High Roller and John Wick: Open Contract.
Top Tourist Destination: Desert Safari Dubai
Activities to Enjoy
There are a lot of activities in Motiongate that you can enjoy as an individual and as a family as well. You can go through all the several different family and kids ride including the motion simulators, the play areas, the roller coaster, and water rides.
Moreover, you can watch different live shows featuring different shows and characters and if you don't feel like it, you can just go to one of the many eateries and fill your stomach to its fullest. Furthermore, you can also go shopping from the tens of shops throughout the park.
Annual Passes and Entry Tickets to Motiongate Dubai
There are a variety of entry tickets to Motiongate that visitors can choose from.
One day Entrance Fee For MotionGate
You can buy a MotionGate Dubai ticket for AED 245.
Q-Fast Option
You can also get a Q-Fast pass that will allow you to skip the queues and enter the park.
Annual Pass
If you have an annual pass to Dubai Parks and Resorts, you can use that to visit all four parks, including Motiongate, Bollywood Parks, Legoland Water Park, and Legoland Dubai.
The cost of an annual pass for these parks is AED 595.
An annual pass for two parks is priced at AED 475.
You can buy an annual pass for a single park which is AED 345.
Benefits of Annual Tickets
The annual entry ticket to Motiongate comes with several perks:
Free parking service.
A 20% discount on Lapita Hotel Spa with a 10% discount on rooms and food and beverages.
A 10% discount on merchandise and single day tickets.
Conclusion
Motiongate is a place where you can spend quality time full of a good and memorable experience. You are sure to never forget the time that you send here thanks to all of the attractions. So, what are you waiting for? Get online and book your tickets right now.