Introduction
Al Qudra Lake is one of the best places for those who are looking for a remote campsite in a peaceful place which is away from the city. The majority of peoples camping in Dubai at Al Aweer Desert and Lahbab Desert which is famous for the red dunes and Desert Safari activities, however there are many other sites located around Dubai get yourself to Al Qudra Lake and have a memorable time because no doubt it is one of the best places in Dubai for camping yet it is not as crowded as Lahbab Desert or many other popular places in Dubai.
It holds about 20 billion cubic meters of water and covers an area of 3 km2 at its deepest point and 1 km2 at its shallowest point. The lake has become popular among birdwatchers due to its rich biodiversity.
Al Qudra Lakes are located in the Al Marmoom Desert, a short 30-minute drive from Dubai. The desert oasis is having several lakes, including the heart-shaped, Logo shape of Dubai Expo and Heart Shaped Known as Love Lake. Visitors can camp or go for a picnic on the lake and enjoy a cheap barbecue. It also offers a range of outdoor activities and is the perfect spot for a romantic getaway.
Best Place for Camping outside the Dubai City
If you are looking for a place where you can camp and still around the Dubai, then Camping at Al Qudra Lakes is the perfect choice. It's not as crowded but it offers a great escape from busy city life. The location of Al Qudra Lakes or Love Lake is south of Emirates Road, where there are plenty of restaurants and shops to keep your spirits up while enjoying some quiet time away from the hustle and bustle around you.
The best time to visit this beautiful campground would be between spring or winter because during these seasons there will be less people who go camping here so that means more space available for everyone else.
Those who love nature and the Outdoor Activities will adore the expanse of Al Qudra Lake. There are flamingos and swans galore, as well as bike trails and an observation tower. The expansive lakes are also a popular location for picnics.
Did you Know Al Qudra is not a single Lake?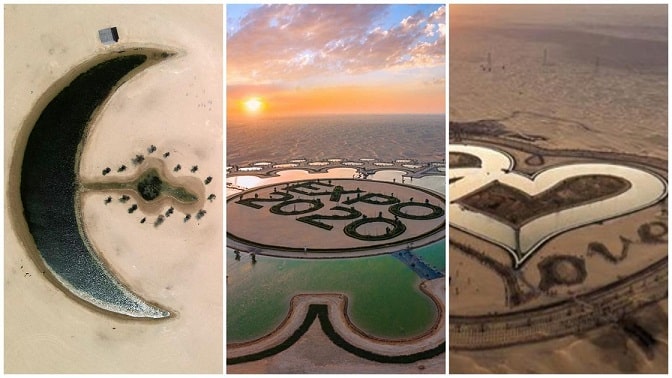 Al Qudra is not only the name of a single lake it's a cluster of more than 10 lakes in desert. The entire cluster of lakes is called Al Qudra Lakes. Two popular lakes "Love Lake" and "Moon Lake". Recently added a new lake called Expo2020 Lake. The Expo2020 Lake is developed at the brand logo of Dubai Expo2020.
Best Time for Camping at AL Qudra Lake
At Night Al Qudra Lake is a great place to camp round the year, however, summer may not be a good choice due to very high temperature so try avoid camping in summer season. I prefer to camp in spring or winter seasons where you will find cool weather during night which will make your camping trip amazing.
The lake area has lots of facilities like restaurants and shops where you can buy anything from food items like noodles and foodstuffs like ice cream etc.
When did it come into being ?
Love Lake is an oasis that has been created by man in the middle of the desert. You will see flocks of birds (which may be pink flamingos) when you reach the lake.
The Love Lake Dubai was first revealed in November 2018 by His Highness Sheikh Hamdan bin Mohammed, the Crown Prince of Dubai. The aerial image of the lake, which is surrounded by palm trees and sand dunes, made headlines across the UAE. There was no warning before the lake was revealed.
Other activities you can do at Lake Side
Love Lake Dubai is an eco-friendly park that is a perfect place to relax and unwind. It has a running track and you can even rent a bike to get around. You can also watch colorful fish and swans swimming in the lake. It is also a great place to spend some quality time with your family.
There is a picnic area with a fenced in area, 3 jogging trails, and a heart-shaped badminton court. If you're planning on spending the night, you should bring camping equipment. You can even bring food and drink, and a barbeque. When camping, it's best to get there early. It's also recommended that you bring a trolly cart to transport all your gear.
Why you should visit Dubai Love Lake?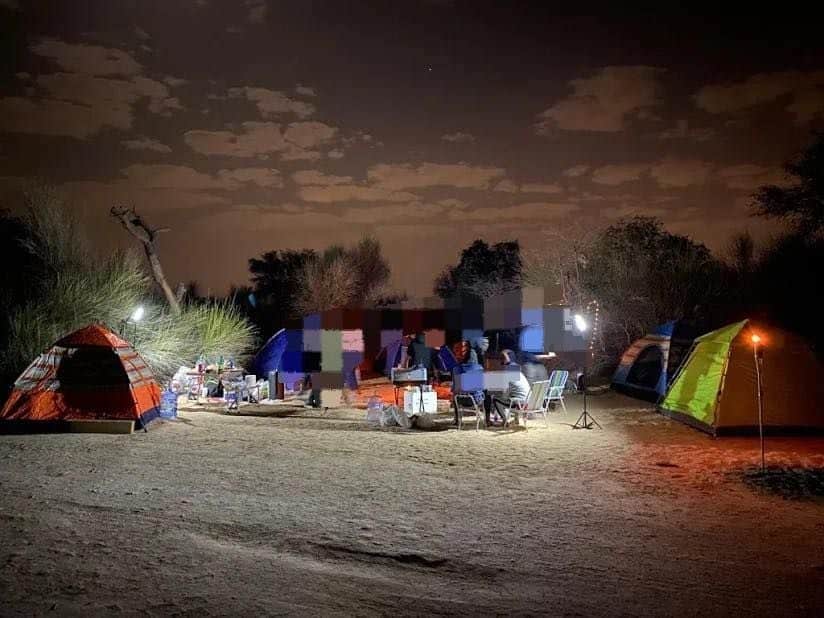 Are you looking for best out door adventures and activities in Dubai? Love Lake Dubai is the newest attraction in Dubai. The man-made heart-shaped lake is surrounded by young Ghaf trees, giving it a unique and artistic appearance. It's a peaceful location, and is perfect for a romantic getaway. The beautiful turquoise waters and sandy beaches will soothe your senses, and you'll feel as if you're in paradise. Besides the romantic atmosphere, the lake is surrounded by sand dunes and wildlife, making it the perfect place to escape from the busy world.
If you're looking for some good food, you can't go wrong with the food park. During winter months, the food park is a great place to grab a bite. It also hosts hundreds of birds. The lake is a perfect spot to spend quality time with your loved ones. There are also several places around the lake that you can visit if you're in the mood for a romantic dinner or a fun day out with friends.
Another attraction in Love Lake Dubai is its spectacular sunsets. The views from the lake are unlike anything you can see in the city. It's a wonderful experience to watch the sun sink behind the mighty sand dunes. A perfect way to end a great day at Love Lake Dubai! You won't want to miss it.
Does it Suitable for families to come
Al Qudra is also an ideal destination for romantic outings. Families and Couples can enjoy a romantic night at Love Lake, a massive heart-shaped lake. At night, the desert oasis has a stunning views that's the perfect backdrop for stargazing or taking pictures. And if you're a nature lover, you can also try out the many water sports available. This is just one of the many activities and destinations you can visit at Al Qudra.
When you visit Love Lake Dubai, make sure to spend a few hours enjoying the scenery. This tranquil oasis is filled with over 16000 different plants and trees. It's the perfect place to take a break from the hustle and bustle of the city. In addition, you can also enjoy the most beautiful sunsets in Dubai from the lake.
Al Qudra Lakes is an ecologically sound place to camp with families, and the surrounding park and desert landscape provide beautiful views. It is also one of the few lakes in Dubai with a healthy wildlife population. In addition to flamingos, a variety of birds call Al Qudra Lake their home.
Experience an Incredible Sunset view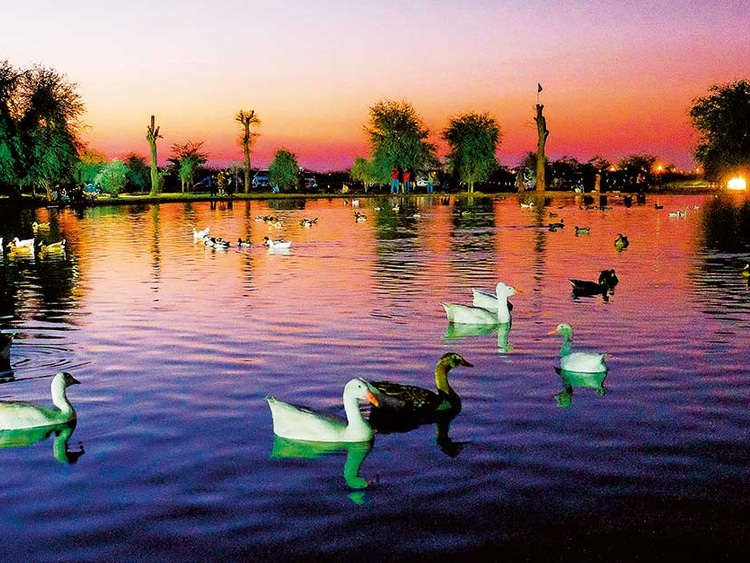 Love Lake Dubai is one of the most Instagram-worthy places in the city. The lake is marked with signs and can be viewed via satellite from Google maps. It's not just the lake itself that looks like a heart, but the whole area surrounding it. Designed with love and care, this beautiful oasis is a beautiful example of Dubai's love for nature.
This is a popular destination for campers, and can be crowded during the weekend. If you're planning to camp, it's a great option for free outdoor activities in Dubai. But make sure you pack complete camping gear. There are camping equipment rentals in the city. You'll find many picnic tables around the lake, so you can enjoy your meal while watching the beautiful sights. Barbecue pits are also available.
Things to Know Before Going to Love Lake
Entry is free no permits or tickets are required
Don't feed this fishes in the lake as well as Birds, it's not allowed
If you want to fly drones at lake side you need a verified permit from authorities
If you want to night camping go there in winters, summer is not recommended due to weather hardness.
If you paining to spend night in winter dress properly, because desert is much cooler then city at night.
Please put your left overs (like charcoal) into garbage area, just because it is harmful for wildlife's special for the aquatic creatures.
You can go there on any average car, but 4×4 is recommended in desert area.
Other Attractions near The Love Lake
The Camel Farm
Thereis also a Camel farm, Camels are the traditional way of traveling of Arabs, also called plain of the Desert. You can get a Camel Ride at Al Qudra Lakes this is the best way to enjoy and feel the desert life. Also there are many other animals in the camel farm.
Al Qudra Cycling Track
If you are an adventure lover you decide to go at right place, Al Qudra Lake have an 86 KM long cycling track. It is also the best way to explore the desert. All cyclist from Dubai come here to do such a wonderful adventure.
Best time for cycling in the desert is at Sunrise and Sun set. If you don't have a bike don't worry there is a cycle store where you can rent out a bicycle, even if you have a bike we suggest no need to carry in your car you can get it at the place.
Al Marmoum Heritage Village
The Heritage Village offer guided tour to the visitors, there is an exhibitions of Arabs traditional things. During the winters every year they hosts Heritage Festivals in their traditional ways.
Hotels near The Lake
Abidos Hotel Apartment Dubailand
Studio One Hotel
Al Maha, a Luxury Collection Desert Resort & Spa, Dubai
Bab Al Shams Desert Resort & Spa
Park Inn by Radisson Dubai Motor City
Trek Bicycle store
Qudra Lake Location
Al Qudra Lake direction is between E66 and E77 (~ 50 km south of Emirates Road). It's easy to access and you can enjoy an amazing view with a scenic drive.
You can park your car in two parking facilities near Love Lake Al Qudra and start exploring the lake.
Al Qudra Lake is located about 10 miles east of the Al Maktoum Airport. It is accessible from Dubai Ail Ain Road and the Emirates Road. Getting there is easiest if you have your own vehicle. However, if you need to take public transportation, you can take the Al Qudra Road Bus station, which is about 20 minutes away.
How to Get There?
You can get there by public transport, nearest bus stop is Seh as Salam Farm – 2 you can get there by 36 minutes' walk.
Best way to get there is by Car, if you don't have a car you can get there by Taxi to the nearby parking area.
Click on the map to get location
Does Al Qudra Lakes open 24 Hours?
Yes, it is open for 24 hours but its better if you visit at day time to see the incredible view of the lakes.
Bes time to Get Al Qudra Lakes
Winter Time is recommended for night camping, but it remain open round the year
Does BBQ is allowed at al Qudra Lakes?
Ministry of Climate Change & Environment allows BBQ at Al Qudra Lakes also you bring your own equipment's
What is the entrance Price at Al Qudra Lakes?
 It's totally free, there is no tickets and entrance charges
Does Swimming is allowed at Love Lakes?
Swimming is not allowed only you can wet your feet's with this water and also it's not appropriate for drinking.
Does Pets are allowed at Love Lakes?
Yeah, you can get there with your pets