Are you trying to find out the best places to visit in Dubai at night? Then welcome you are at the right place. Dubai is undoubtedly different under the sunlight and gives an entirely different view at the night time. At night time Dubai looks like a glittering jar containing fireflies.
Once the sun goes down the magic of Dubai is surreal and mesmerizing due to its glittery and ultramodern architecture. There is much one can do at night time in here from adventurous night safari to the marvelous beauty of great attractions. Keep on reading the article to find out place you can visit at night.
10 Best Places to Visit in Dubai at Night
Here is a highly recommended list of 10 best places to visit in Dubai at night:
1. Dubai Creek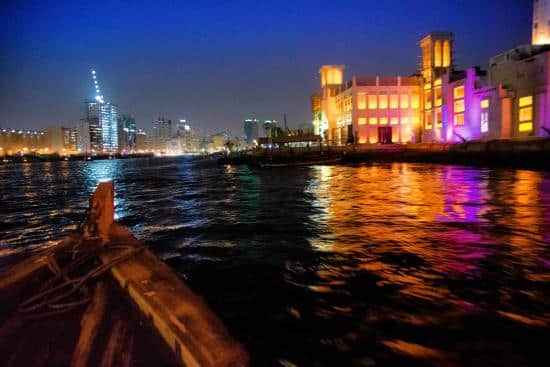 The first place to visit in Dubai at night is the Dubai creek. It is one of the most unique and unusual places in Dubai as a result of which it is a highly recommended place for tourists. One of the most alluring place with the sophisticated architecture and sparkling skyline are the highlights of this fantastic saltwater creek.
Never miss an opportunity to sail on the serene waters of Dubai creek in dhow cruise especially at night to enjoy the beauty of this place at its full. Give yourself a retreat by dining in the cruise under the shining starts giving it a magical appearance.
Besides this, there are many other entertainment options as well, including traditional music and belly dance or Tanura dance. Bring your cameras along with you to capture these moments of fun and enjoyments for a lifetime.
2. Tee & Putt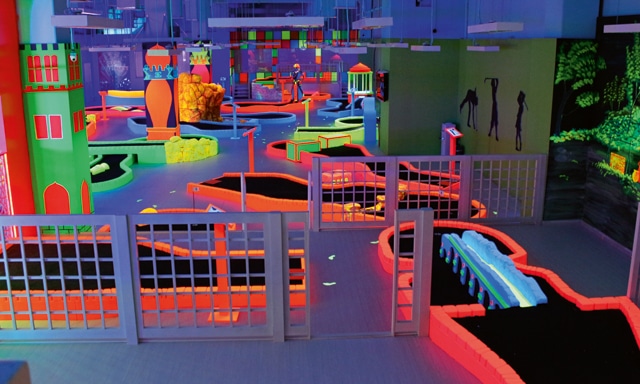 Next place to visit at night in Dubai is the Tee & Putt. It is present in the Wafi Mall and is famous due to its glowing mini golf club which is its highlight. The moment you enter the place, you will get an instant feel like you are on some alien planet.
You can have a fun time along with the thrill and excitement here in the presence of ultraviolet lights, astronauts and aliens. Try indoor golfing here which I am 100 percent sure will be entirely different from your usual golf experience.
Weather of Dubai is really hot as it is a desert country. Therefore, it is tough to play desert outside in the daytime. But do not get disheartened, dear golf lovers as you can play golf at night time and that too in a unique environment which cannot be found anywhere else in the world.
3. The Dubai Fountains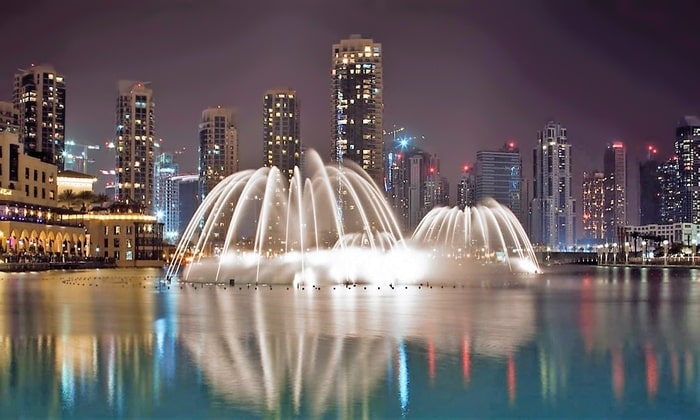 Whether you are from Dubai or some other country, everyone is familiar with the renowned Dubai Fountains. Therefore, during your trip to Dubai always add Dubai fountains in the places to visit. The best time to visit fountains is the night.
Besides the incredible view of the fountains, you can also enjoy some excellent music and mesmerizing light show every 30 minutes. Light show synchronizes with the dancing water and gives a view as they are one. One of the best scene that offers an aura of serenity to its viewers.It is one of the best things to experience water art, dancing lights, and a magnificent symphony of music. And the best part is that it is free to place to visit in Dubai.
**Popular Attraction in Dubai** Desert Safari in Dubai

4. Ski Dubai at Mall of the Emirates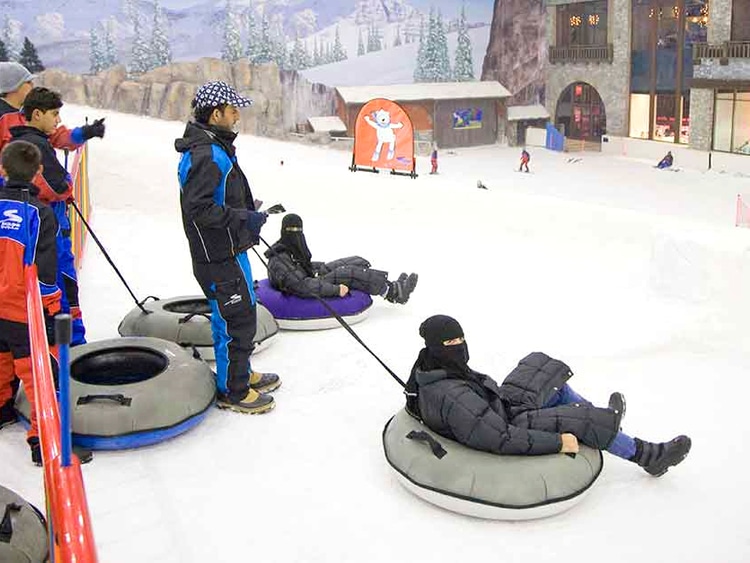 Dubai is nothing short of wonders, and as you explore the city, you will find many beautiful things here. One of them is Ski Dubai in the Emirates mall and is truly a wonderland. It is a man-made snow park including five slopes each of which has different heights and size and a skiing area.
Some activities you can enjoy here are snowboarding, skiing, and tobogganing. Even when you do not have clothes and other accessories to enjoy different activities here do not worry. Because it is not a big issue, everything is available here to fight with the cold temperature inside.
From teenagers to adults ski Dubai offers many fun activities to everyone and everybody.
5. The Arabian Desert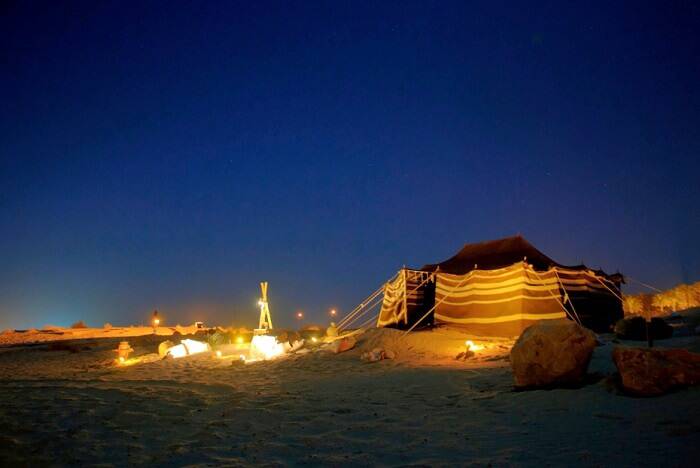 The best place to visit in Dubai at night to spend time in the most serene and tranquil environment is the Arabian Desert. Visit the famous Dubai safari desert in the night and enjoy plenty of activity including camel trekking, sand skiing, dune bashing, and quad biking.
Go camping here in desert safari and spend one of the most memorable night under a sky full of twinkling stars over the sand in cold breeze. All of this collection gives it a magical appearance and mesmerizing view. I must say start your night here by viewing one of the best sunset views in the world.
Different entertainment options are available like Tanura dance, belly dance, and a fire show. Enjoy these performances while enjoying delicious barbeque here. It is undoubtedly one of the best things to do in Dubai with your family.
6. La Mer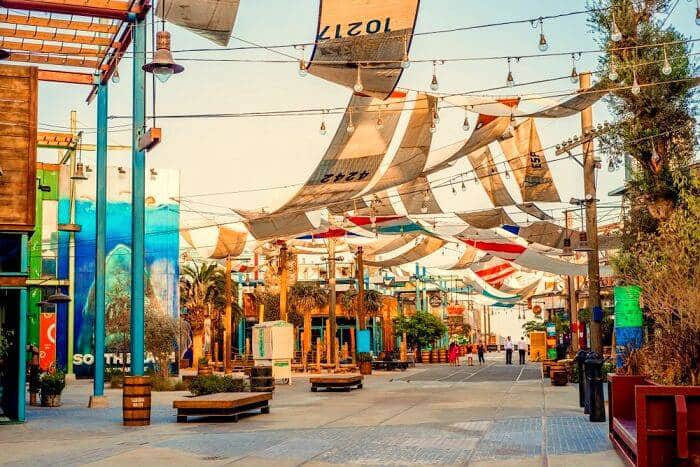 Among many places, another great place to visit in Dubai at night is the La Mer. La Mer is one of those places that gain popularity within a very short time and is equally famous among locals and tourists. It is present in the area of Jumeirah, and its main features are its beach, restaurants, cafes and retail shops.
Although this place is busy and crowded during daytime however the best time to visit here is night. As at night time beauty of the place doubles under its glittering lights and peaceful view. Calm your cravings at one of the best restaurant here while enjoying an excellent view of the Burj Al Khalifa.
Also Explore: Best Night Camping Place in Dubai Al Qudra Lake
7. 360 Lounge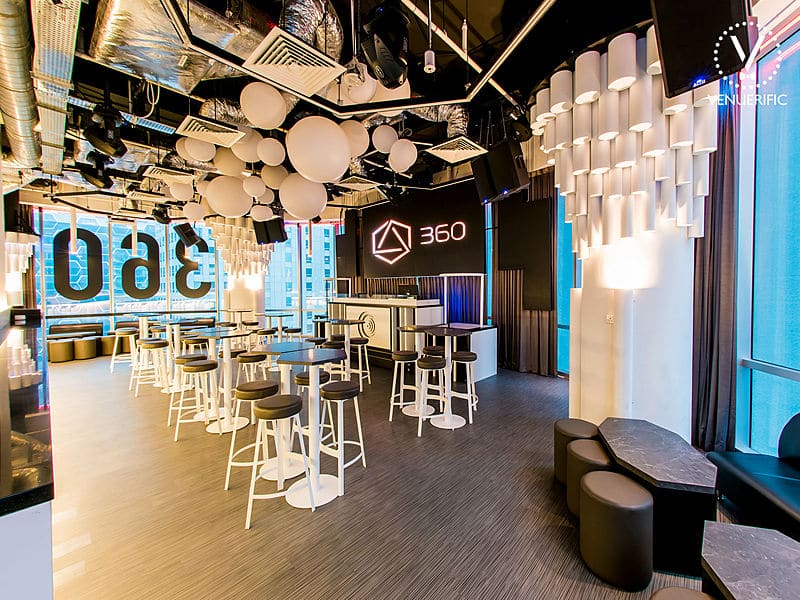 Are you looking for someplace where you can enjoy the panoramic view of the coastline and Burj Al Khalifa then visit 360 lounges? Each day a large number of guests visit this place due to the fantastic sightseeing, outstanding services, and excellent environment.
Visit the lounge at the night time enjoying the breath-taking view of the sunset in a relaxing and comfortable place. And enjoy the sight of the glittering coast near the Dubai marina which will find new and different whenever you look at it. It is a must place to visit with your friends and family.
8. Dubai Aquarium & Underwater Zoo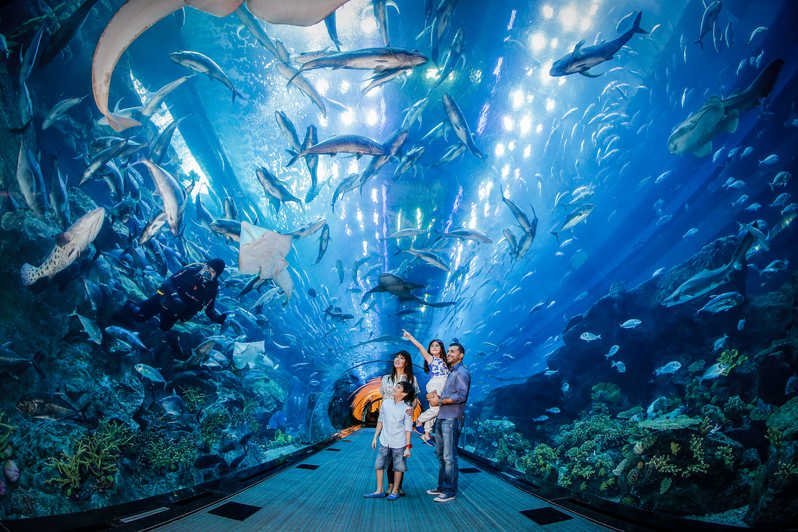 With Dubai, next word that comes in mind is the wonder. Another wonder Dubai has in its name is the largest suspended aquarium in the world. It is present in the ground floor of the Dubai Mall containing thousands of the aquatic animals including sharks, sting-rays and many other. You can see the world's most extensive collection of sand Tiger Sharks here.
In its virtual reality zoo, you will get a chance to be close to the aquatic animals and have a thrilling and exciting experience. You can also feed the animals here. Continuous inventions and changes are made in the aquarium with time to provide the improved and better experience each time to the visitors.
9. Dubai Garden Glow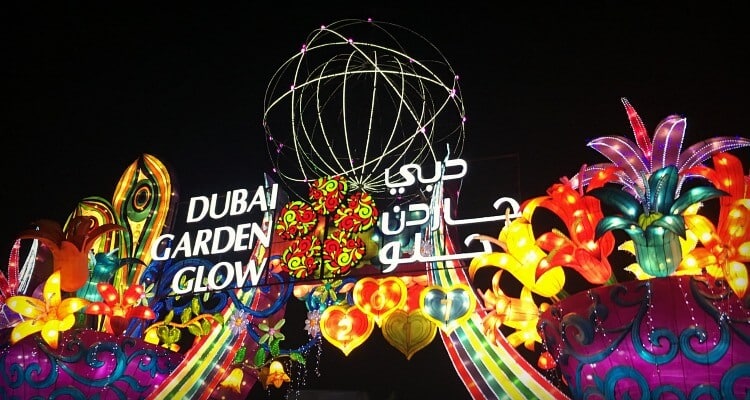 As the name indicates, Dubai garden glow is the glowing garden in the dark, which is made up of recycled luminous fabrics. If you are interested in seeing its glow visit at night. The main features of the place are model of UAE landmarks, including Burj Al Khalifa, which is made up of recycled cups and bottles.
Millions of tourists each year visit this place due to its uniqueness and beauty. You will feel like it is someplace straight comes out of a fairy tale due to its dazzle and stunning charm, leaving you in awe.
Explore ten different areas including Dinosaur Park, Garden Glow, Ice park happiness Street, Art Park to name few of them.
10. Lost Chambers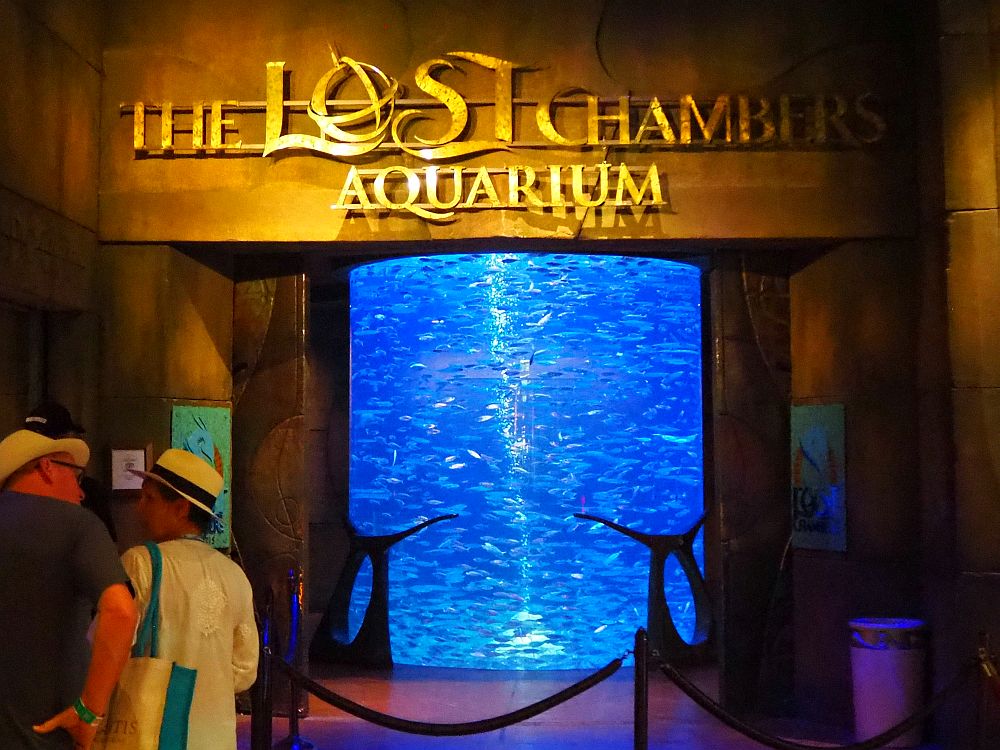 Lastly, we have lost chambers in our list which is a mesmerizing walkway from the sea life. It will be one of the most amazing walks of your life under the glass tunnel of the lost chamber aquarium at Atlantis, leaving you completely mesmerized. This place is built on the design of the lost city of Atlantis.
Have a face-to-face encounter with the stunning creatures of the underwater world including sharks, lobsters, tiniest seahorses and piranhas. In its ten incredibly great chambers, one can witness 65,000 vibrant and colorful marine animals. You can also pick a sea cucumber or starfish from the touch tank in the aquarium.