Dubai Garden Glow 6th Season is Back at Zabeel Park
Dubai is surely a fascination for all the visiting tourists. The place is just a miracle as many tourist destinations have an aesthetical view for sure. One such place for which you should be craving right now is Dubai Garden Glow.
Dubai Glow Garden is one of the fascinations located at Zabeel Park. The garden lets you enjoy the artistic view of lights in the best possible manner. Having said that, it's just like a magic show especially when you are in the garden to see each and everything with a naked eye.
While talking about the Dubai glow garden, it is important to have enough knowledge of the place especially if you are planning a visit there.
We'll be starting with garden timings, then to tickets price and then we'll be stating some of the activities that you can enjoy while being there.
So, let's take a broad view of Garden Glow Dubai.
Dubai Garden Glow Opening Time
The glow garden is open for the public at steady timings. Having said that, from Saturday to Thursday you can visit it from 4 PM to 11 PM according to Dubai Standard Time.
As Friday is declared holiday for Dubai, so the closing time is increased for an hour as the place gets closed at 12 AM sharp.
In short, you can take your family or can visit the garden all by yourself to enjoy mesmerizing lighting show that you could've never seen anywhere before.
While you visit the glow garden Dubai, keep in mind that exploring it will take at least 2 hours. Therefore, going early will ensure that you check out each and everything regarding the place for a relaxing experience.
Entry Fee at Garden Glow Dubai
The Dubai Glow Garden charges 65 AED including the 5% VAT Per Person. In this entry fee, you will be able to enjoy two different shows inside the garden. So, the rates are pretty much affordable for a common man living in Dubai.
Plus, keep in mind that this entry fee also covers the Dinosaur Park which is inside the Zabeel Park. So, a thrilling thematic Glow park along with an adventurous Dinosaur Park awaits you with affordable rates.
Finally, one more thing that you should know regarding the entry fee is that underage children i.e. from 1 to 3 years won't be costing you any money. They are allowed to enjoy the Garden Glow Park without any entry fee.
That's the main reason we'll recommend you to visit the park with your family and especially if you have small kids.
Dubai Glow Garden Ticket Price
Tickets inside the Glow Park are also affordable. If you just want to enjoy the shows, then there is no need to spend extra money as entry fee will be covering both Dino and Glow Park.
However, extra activities are available for children and for adults that can be enjoyed by paying the ticket price. Tickets of different rides are fixed and they are also available at affordable rates.
So, you can get a mesmerizing light glowing show along with the opportunity to explore Dinosaur Park without spending too much money. To be honest, this is the most generous, a park can get to facilitate the tour of a middle-class family easily.
Dubai Glow Garden Deals
There are no official deals available from the Park administration. However, different private companies are providing attractive deals including full dinner, discount for up to 10 percent on entry fee and much more.

Also Check out the top tourist attraction Desert Safari Dubai
Hence, we'll be recommending you to check out those deals especially if you are planning to book the Dubai garden glow tickets online.
While you lookout for deals, make sure that the company you are in contact with is legit and has positive reviews on its website.
Dubai Glow Garden Location
Things You Can Enjoy at Glow Garden Park
Certain amusement activities that you can enjoy at Glow Garden Dubai are as follows:
Getting Advantage of Optical Illusions at the Magical Park
Garden glow's latest attraction includes a magical park where different optical illusions are available to get the photographs done in the best possible way.
Don't forget to take your camera whenever you visit the section to capture yourself in weird situations.
3D Artworks For Entertainment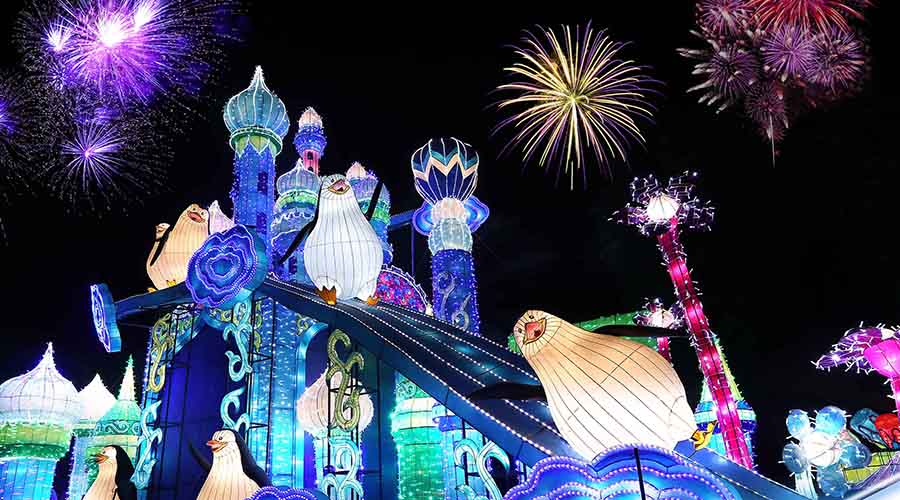 Along with the magical illusions, Glow Garden is home to realistic 3D artworks as well. These artworks can be used for taking beautiful pictures either lying down on Burj Al Arab or escaping from the ferocious attacks of dinosaurs.
In short, the 3D artwork exhibitions are one of the most aesthetic views you'll be seeing right after the magical illusions. So, don't forget to visit the exhibition and take a camera with you to take snaps from different angles.
Light Show at Glow Garden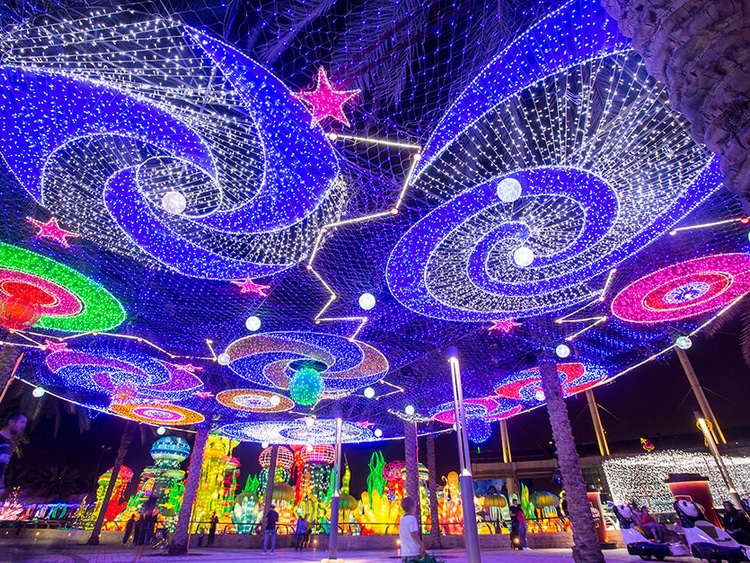 Glow park is famous for one of the largest light shows around the globe. Having said that, the park has been specially decorated with recycled fabric. Plus, 10,000 LEDs are being lit at once that will take you to a whole new world for sure.
Light Show continues for an hour and you can explore the park during that time for taking an aesthetic view. To save the memories, you can either record the whole show or can capture beautiful pictures of you and your family.
Dinosaur Park Dubai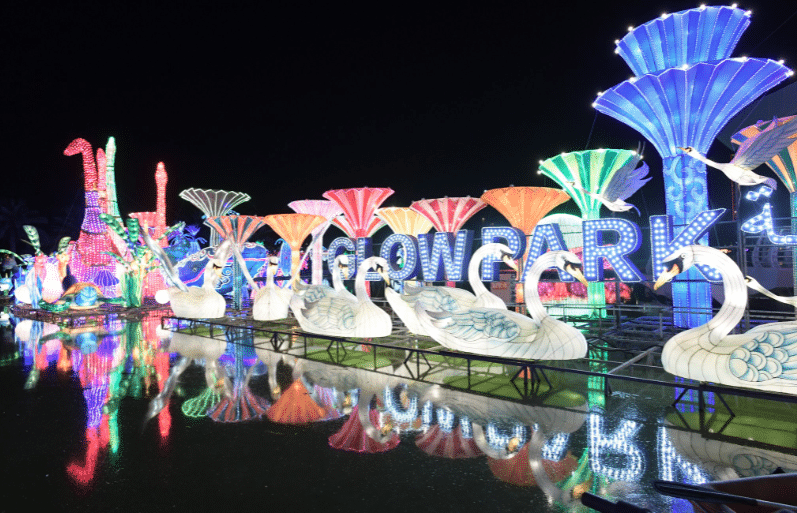 The dinosaur park is meant for children but adults can also take full advantage of it. Moving Dinos are moving all around the park to give a realistic portrait of the earlier ages.
So, it's a thrilling adventure for kids. Apart from the movement, you can also hear the roar of dinosaurs. In short, Dino Park is something very creative and will be providing you a memorable experience.
Visiting Ice Park
Taking photographs in front of odd ice sculptures in the Ice park is yet another activity you can enjoy at the Glow Garden Dubai. We all know that Dubai is freakishly hot, but the temperature is at a freezing point when you enter the premises of Ice Park. So, enjoy along with your family while you visit the theme park.
Some Last Words
Glow Garden Dubai at Zabeel Park is without a single doubt, a complete package of entertainment for couples and families. Take some time out of your busy schedule and must visit this garden as the entry fee right now is extremely feasible.