Dubai is a city full of brands and businesses. It is an economic trading hub for different companies from all across the world. That's the reason you will be finding every multi-national and national brand here in the city.
Talking about multinational companies, the one which is prominent in Dubai is Ikea. Ikea is abbreviated as, "Ingvar Kamprad Elmtaryd Agunnaryd". It's actually a Swedish store that deals in minimalist furniture dealings including desks, sofas, cushions and other accessories.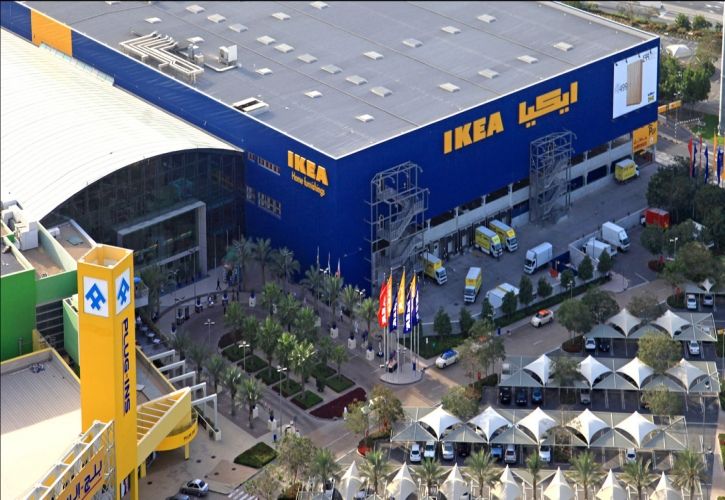 In a similar sense, Ikea Dubai offers a wide deal of furniture. The store is located in Dubai Festival City. On the other hand, it is spread in a wide area and has customers almost all the time.
Today, we'll be reviewing the store completely i.e. it's background, what it offers, what's the big deal with Ikea?
So, let's start without any further ado.
Ikea Dubai & Abu Dhabi Timing
| City | Sat-Wed | Thursday | Friday | Saturday |
| --- | --- | --- | --- | --- |
| Dubai | 10am - 10pm | 10am - midnight | 10am - midnight | 10am - midnight |
| Abu Dhabi | 10am - 10pm | 10am - midnight | 10am - midnight | 10am - midnight |
Opening of Ikea in UAE
Let's shed some light on how one of the biggest furniture stores got opened in Dubai. The very first Ikea store was actually a small shop located in Karama on Zabeel road. However, as time passed by, the owners realized the potential that Dubai holds for furniture business.
So, after a couple of years, a larger store with a wide area got opened in Deira City center, right when the creation of a new mall was done back in 1995. [It was closed in 2005 after the launch of Ikea at Dubai Festival City.]
Other than that, the latest Ikea furniture and accessories store is located in Dubai Festival City. It was opened in 2005 after the launch of DFC. Having said that, Ikea Dubai flourished when its store got the publicity at Dubai Festival Centre.
The successful venture of Ikea doesn't end here. After the flourishing launch of store at Dubai Festival Centre, an even large store was opened in Abu Dhabi located at Yas Island. Ikea UAE was opened almost 8 years back in 2011.
So, that's all about Ikea and how it started flourishing in one of the best treading hubs i.e. Dubai City.
What's All the Fuss About Ikea Store in Dubai?
You could've seen many people praising the furniture and other lighting accessories available at Ikea. So, a common question arises that what's all the fuss regarding Ikea? Why is it so famous?
Let's break down the answer with some important analysis as follows:
1. Ikea Offers FREE Home Delivery
One of the best specialties of Ikea is that it offers free home delivery to customers all over UAE who are shopping online.
There will be no delivery charges from the store no matter how far you are situated in Dubai.
So, there is a peace of mind that no matter how much you shop, it will be delivered at your doorstep with guarantee from the store itself.
2. It Delivers Disassembled Furniture
Well, consider it a specialty from Ikea that it doesn't deliver furniture products with full assembly. All the products are disassembled which has many benefits. For instance, if you visit the store located at Dubai Festival Centre and choose an Ikea desk there, how will you bring an assembled desk in the car?
It's almost impossible. So, what Ikea does is that it disassembles each part of the product so that it can easily be contained either in a car or a delivery truck.
There is a complete manual user guide available within each product with complete diagram descriptions. You will be able to assemble each part conveniently as you go through the user manual.
3. Ikea Dubai Offers Minimalist Design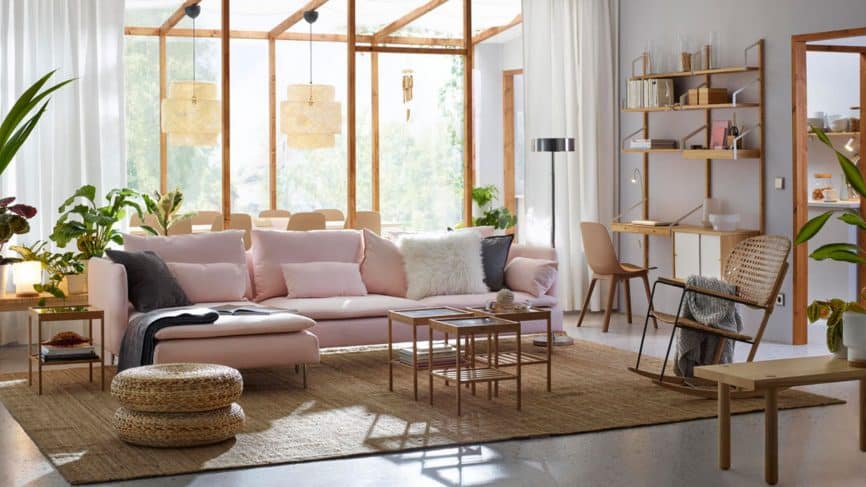 The unique specialty in furniture and other accessories offered by Ikea is that they are made with minimalist design.
That's the main reason people boast Ikea UAE furniture way too high. No matter if you are choosing a sofa, a cushion, a desk, or a lamp, each product will have a simple yet fascinating design.
You will be seeing large numbers of customers waiting at the queue to enter Ikea store at Dubai Festival City. So, the popularity of the store cannot be undermined as you won't be seeing the style of furniture it produces anywhere else.
What to Enjoy at Ikea Dubai?
The activities you can enjoy while you visit the store are as follows:
1. Enjoy Delicious Breakfast and Desserts at Ikea Restaurant
Everyone craves for food especially when they are busy in shopping. So, there is good news for food lovers that Ikea has a restaurant along with the store. People can stop there for refreshment and relaxation.
Ikea restaurant offers breakfast deals, lunch, fast food, and a variety of coffees. You can order whatever you want to boost your energy for the rest of the day.
One thing that will fascinate you in Ikea restaurant is that Swedish varieties are present here. You will get to enjoy Swedish cookies, pastries along with hot Swedish soup and fruit salad.
In short, Ikea Restaurant offers great care to the customers visiting the store. The restaurant is a great example as it will soothe down a person perfectly.
Ikea Dubai Break Fast
9:30 AM to 11:30 AM
| | | | |
| --- | --- | --- | --- |
| Dishes | Grilled Sandwich Cheese | Ikea Breakfast 4 items | Ikea Breakfast 6 items |
| Prices | Dhs 5 | Dhs 10 | Dhs 19 |
Cold Dishes
| | | | |
| --- | --- | --- | --- |
| Dishes | Breakfast Bagel | Caesar Salad | Marinated Salmon |
| Prices | Dhs 9 | Dhs 15 | Dhs 19 |
Ikea Dubai Lunch & Dinner
Available from 11:30 AM
| Dish | Prices |
| --- | --- |
| Veggie Ball | Dhs 9 |
| Swedish Meatballs | Dhs 12 |
| Salmon Balls | Dhs 19 |
| Shawarma Combo | Dhs 26 |
| Salmon Fillet | Dhs 39 |
Ikea Dubai Kids Meals
| | | | |
| --- | --- | --- | --- |
| Dish | Veggie Ball | Swedish Meatballs | Chicken Tender & Fries |
| Prices | Dhs 5 | Dhs 6 | Dhs 7 |
Delicious desserts at IKEA
| Dish | Prices |
| --- | --- |
| Fruit Salad | Dhs 7 |
| Daim Cake | Dhs 7 |
| Almond Cake | Dhs 7 |
| Assorted Muffins | Dhs 7 |
| Cinnamon bun + Coffee | Dhs 9 |
| Cinnamon Bun | Dhs 7 |
| Coffee | Dhs 7 |
2. Latest Catalogs and Brochures are Available
At Ikea store, you will find all latest catalogs and brochures. Right now, Ikea Catalogue 2020 is available at the store that can be bought to get an idea regarding how to select furniture accordingly.
So, that's yet another activity that you can enjoy while visiting the store. The catalogs and brochures, on the other hand, are also available online but you'll love to take a look at them in hard copy.
3. Professionals Offer Home and Business Solutions
Ikea professionals are available at the store to facilitate customers in the best possible manner. If you are planning either for home furniture or furniture for your business, then you can discuss all the details with these experts.
They will provide you a complete plan regarding which furniture to choose and how to set it in the space perfectly. So, it's quite an innovative activity offered at the store in Dubai.
However, keep in mind that professional designers are pre-booked at peak hours. So, you should contact the store to confirm your appointment before visiting.
4. A wide variety of Furniture and Other Accessories
Last but not least, the store offers a wide variety of furniture including dining tables with chairs set, Ikea chairs, cushions, sofas, and much more.
Not only that, but they also provide complete furniture adjustment for a specific room. The store is widely spread across a large area and each product is available to be checked by the customer.
However, prices are high. That's what you have to pay for acquiring a minimalist lifestyle these days.
Want to work at Ikea Dubai?
Look for Latest Jobs at Ikea in Dubai, Apply now: https://bit.ly/2FAYguz
How to Contact Ikea Dubai Store
Toll-free numbers of the store are available on which you can call for any kind of help or assistance. The contact numbers are as follows:
Ikea UAE Contact: 800-4532 [800-Ikea]. The number is toll-free.
Ikea Dubai City Festival Centre Contact: +971-4-20375555, Fax: +971-4-2037620, Email address: [email protected]
Abu Dhabi Yas Island Store Contact: +971-2-4935888, Email address: [email protected], Fax: +971-2-4935830

Website: https://www.ikea.com/ae/en/
Ikea Location in Dubai
What Can You Get From Ikea If You Have 10,000 Dirham?
In case you intend to do shopping from Ikea, here is how much you can get by spending 10,000 dirhams:
You can complete furniture of 1 bedroom apartment. This includes a bed, sofa, chairs, table, desk and other accessories to decorate the apartment.
However, increase your budget to at least 15,000 dirhams if you want to choose new products.
On the other hand, let's say if you only have like 5,000 dirhams to spend, then you should be avoiding the sofa and desk.
In a similar case, if you are intending to complete two or three bedrooms, you should double or triple the standard budget for one-bedroom apartment i.e. 10,000 dirhams.
Tips For Assembling Ikea Products and Furniture Perfectly:
If you intend to go to Ikea Dubai and order furniture stuff, then don't forget the following tips:
Always keep a notepad to take essential measures of your room and space where you want to keep the furniture. It will become handy when you visit the store for shopping.
Take a measuring tape every time you intend to visit the store. It will help you to pick the furniture according to the space available in your room perfectly.
As far as the assembly is concerned, the first thing you have to do is to check all parts including nuts and bolts before packing.
For tightening the bolts or nuts, you should keep a screwdriver or a wrench at your home. These tools are necessary to assemble the furniture of Ikea. Without them, you won't be able to tighten the chair or a desk perfectly.
Give a thorough read to user manual and the illustrations so that you can fix a specific product in first try. You don't need to be in a hurry at all.
Focus is everything. Without focusing on the assembling process, you might fix the furniture totally wrong.
Some Last Words:
That would be all regarding Ikea Dubai and Ikea UAE. The Swedish furniture store is open for public at different timings and offers a wide deal of amenities to furnish the home in the best possible way.
If you are a resident of Dubai or Abu Dhabi or a Tourist, we'll be recommending you to visit the store at least once to enjoy a sleek and minimal look of the furniture.