Global Village Dubai 2022-2023
Are you feeling boredom in your life? Do you want to explore some methods of entertainment? There are many ways of entertainment and recreation. To visit parks with your family is one of them. There are many parks in Dubai but the Global Theme Park Village is the best of them. Global village 2023 is a festival park which brings cultures together. There are a lot of things mysterious about global village e.g. part theme park, pavilions with displays from countries, market, restaurants etc.
It is an integrated family destination for culture, entertainment, recreation and shopping in the region. You can enjoy shopping, dining, offer guests, activities and many more. It highlights the cultures of countries of the world in a festival and you can take guests on a journey through pavilions. You can enjoy all these experiences by purchasing a ticket of AED 15 only. Global style village operating season usually starts in November and ends in April of the following year.
Global Village Timing
| Place | Sat-Wed | Thursday | Friday |
| --- | --- | --- | --- |
| Global Village Dubai | 4 PM – 12 AM | 4 PM – 1 AM | 4 PM – 1 AM |
| Entry Gate Closes | 11:30 PM | 12:30 AM | 12:30 AM |
When you plan to visit the park there are many factors to consider before visiting. The park timing is from Saturday to Wednesday from 4:00 pm-12:00 am and usually gates close at 11:30pm but park remains open for late-night during public holidays, Thursday, and Friday from 4:00 pm -1:00 am and entry gates close at 12:30 am.
* Mondays are dedicated to Families and Ladies only.
Entrance of Global Village
There are two main gates of the global village i-e Gate of the world and Cultural gate for the convenience of visitors.
Transport
Transport which you can use to visit global village includes RTA services which provides the public with four bus routes to reach global village. These are affordable and easy methods to join fun.
Schedule of buses are:
From Rashidiya metro station Bus no. 102 provides services.
Bus no. 103 provides services starting from union metro station and will reach at global village by passing from Baniyas Street, Al Rebat Street and Nad Al Hamar.
Bus no. 104 Starts from Al ghubaiba station and will reach the global village by passing through sheikh Rashid street, Al Jafiliya metro station, 2nd Zabeel street and Dubai Al – Ain Road.
Bus no. 106 Starts from Mall of the Emirates Metro station and will also reach the village style theme park.
Timing of Transport Services
Transport services run from 3:15 pm to 11:15 pm, with travel time.
You can also use your private car as the parking facility is available.
Best Desert Adventure in Dubai: Desert Safari Dubai
Location of the Global Village Dubai
If you want to visit the global village in your private car etc. then you must know the exact location of the park to avoid inconvenience.
Global Village is located at Exit 37, Sheikh Mohammad Bin Zayed road, and Emirates road, Dubai, UAE.
Entry Tickets of the Global Village
You cannot enter the park without an entry ticket. Entry ticket price is AED 15 for a person for one day.
The following people can enter the park without an entry ticket:
Children whose age is below three years
People of determination (with one companion each)
Seniors above age of 65
Special Family Pack Tickets
Family pack price is just AED 120 (including 5%VAT) provides with you a value of AED 340 which includes
8 entry tickets
One wonder pass
One value parking voucher.
Wonder Pass Includes
4 stunt show entries (worth of AED 40)
Carnaval points (worth AED 50)
2 Circus entries (worth AED 30)
How to Purchase Tickets?
You can purchase a ticket online by downloading the app.
The other method is to purchase a ticket at the gate from 3:30 pm daily half an hour prior to the closure.
Ticket price of the park is inclusive of 5% VAT.
Season of Global Village 2020-2021
2020-2021 season of Global Theme Park Village is expected to act on 25th October 2020 and going to end on 4th April 2021. This is the 25th season of global village which will prove bigger and better than all previous seasons and will be the forerunner to the silver jubilee season in 2020.
There will be thousands of live shows and activities, more than 70 countries are going to represent and hundreds of shopping outlets.
Reasons to visit Global Village
In the presence of lots of parks in Dubai, why you should visit the Global Village? Some amazing and fascinating reasons to visit this park are
Affordable
Global village is affordable for every type of people. Even middle class can also enjoy the fascinating beauties of this park.
You will get access to different shows, performances, rides and games for just AED 15*. You have to take an extra ticket for some of the attractions, food and outlets within the global village. The latest season is going to host almost 3500 shopping outlets and up to 60 games and rides.
You can get experience to one of the most visited family park attractions for only AED 15.
Shopping
Shopping is the main reason to visit the global village for some families. They want to search out the best items and outlets to shop from pavilions. You can get the best items of different countries from a single place. You can buy unique articles of art, sweets, ice-cream of different brands, bags, shoes, grocery products, beauty products, and many things like that.
Each pavilion showcase a country or region's handicrafts, cuisine and merchandise. Countries which are going to represent include Pakistan, Egypt, Morocco, Russia, China, Turkey, Saudi Arabia, the UAE, Lebanon, Yemen, Syria, Iran, Bahrain, Palestine, Jordan etc. You can purchase all the things in these countries which you like the most.
Fun and Entertainment
If you are fond of rides and games then the global village is the best choice for you. You can play different games. Mostly live shows are planned to organize on weekends. Different activities and games are specially organized on the weekend for those visitors who don't have time to visit the park during the week.
Food
Food lovers visit global village only due to food because almost 130 multicultural foods are offered in the park. It offers a wonderful food street experience, around 20 restaurants, and cafes.
You can enjoy all types of food at one place. The foods you may like at park may include Lupini Beans, candy Floss, Spooky Candy Floss, Live Candy, Ice-cream Cars, Peanuts, Tez Daal, Roasted Channa, Masala Peanuts, Chaats, Desert on Boats, Cold Coffee, Tea, Fruits, fruit pizza, fruit sushi, fruity bingsu, rice dishes, gravy dishes, mutton and chicken, fish, etc.
Carnaval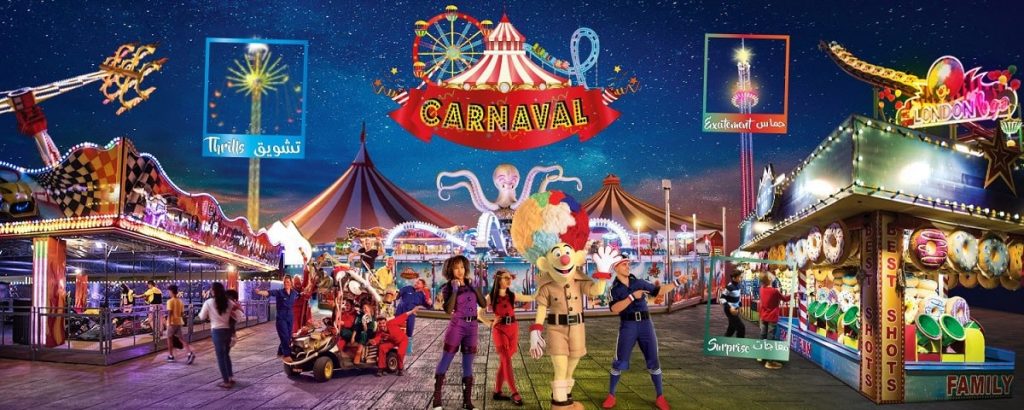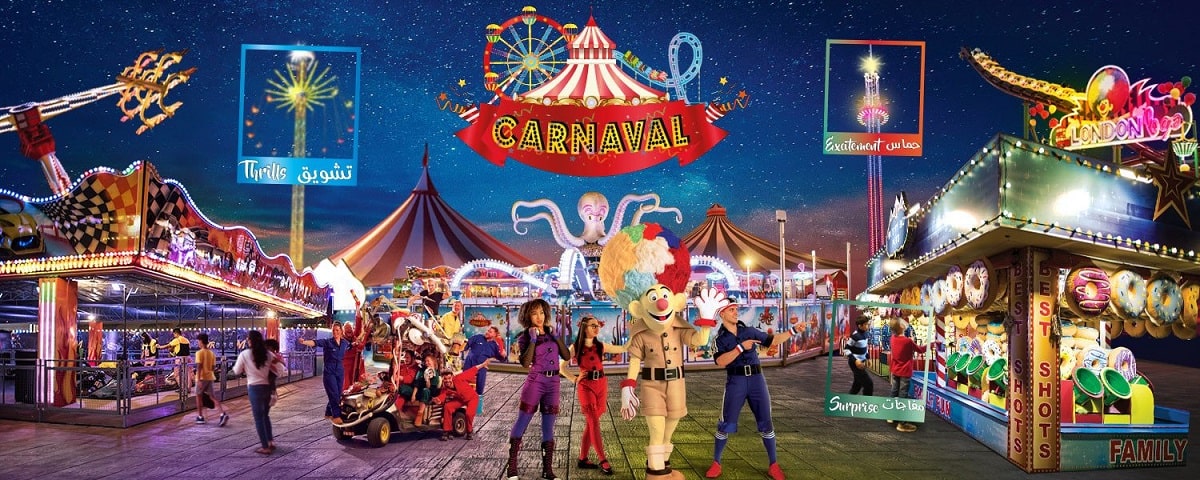 Carnaval is also an important reason for some visitors to visit, carnaval includes Thrill rides, family rides and special attractions.
Thrill rides include Honolulu loop, Jamaica drum, Moscow Max, Transylvania towers, fly France, London loop, Shang high, Athens slingshot, Global burj etc.
Family rides include wheel of the world, vroom UAE, Arabian horse, Cuban dance, Mumbai Express, New York jump, Roaming Rome, Thai twist and many more.
Kid's rides include African land, amazon boats, Bahrain Merhana, Beijing Bungee, California Highway, Caribbean Ship, Holland Wind Wheel, Mexican Balloons, Miami Surf, Seven Sea Pirate, Spania Boat, Swiss Swing, Texas Track etc.
Skill games include best shots and many interesting games which test your skills.
Important Information
Public display of affection is not allowed.
Pets are not allowed to bring in the park.
Segways and roller skates are not allowed in the park.
Please dress modestly while visiting global village.
Try to keep the park clean and don't waste it resources.
If you want to add some fun and enjoyment in your life and want to spent time with your family and make that time memorable then you can visit Theme Park in Dubai.