Drift Beach Dubai is a luxurious beach club and restaurant. It is renowned for its vibrant nightlife and tranquil daytime lounge. The beach club features a spectacular infinity pool, sun loungers and cabanas. DRIFT offers a wide variety of beachside food, from healthy snacks to a range of international dishes from the grill.
Drift Beach's Club lounge deck is a beautiful location for parties, weddings and corporate events as it is surrounded by the ocean, palm trees and a breathtaking view of Dubai Marina. The beachfront location offers panoramic views of the palm island bay and the iconic Dubai skyline. This place is an ideal spot for a romantic evening out or a celebration for friends, family members and your lovers. The dining areas are relaxed, casual atmosphere with high-quality food and drinks. The ambience is relaxed and friendly so it's the perfect place to enjoyment.
There are some other activities at Drift Beach Dubai. The hotel has two restaurants, a shisha terrace, and three swimming pools. You can spend the afternoon at the poolside or enjoy a night out in the city. The beach features plenty of Instagram worthy spots, and there's also a hair salon for those who want to look their best.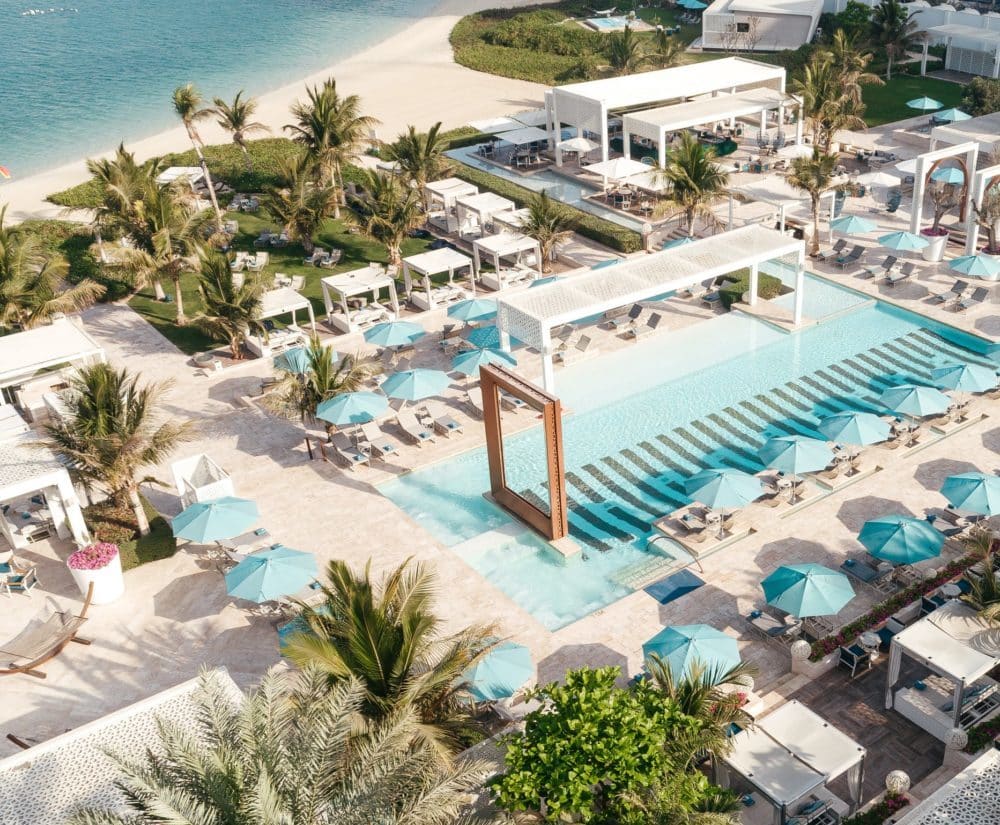 The Drift Beach Club has many features including:
A private beach club with its own infinity pool that sits on top of the building overlooking Jumeirah Beach Residence's private sandy beach with views across to The Palm Jumeirah or elsewhere out at sea if you are lucky enough to get there.
A fully equipped gym with state-of-the-art equipment so you can keep up your shape while enjoying some time away from home.
An elegant lounge area where guests can relax after dinner or during lunchtime when there are no events taking place downstairs (this means no queues).
Drift Beach Dubai Ladies Day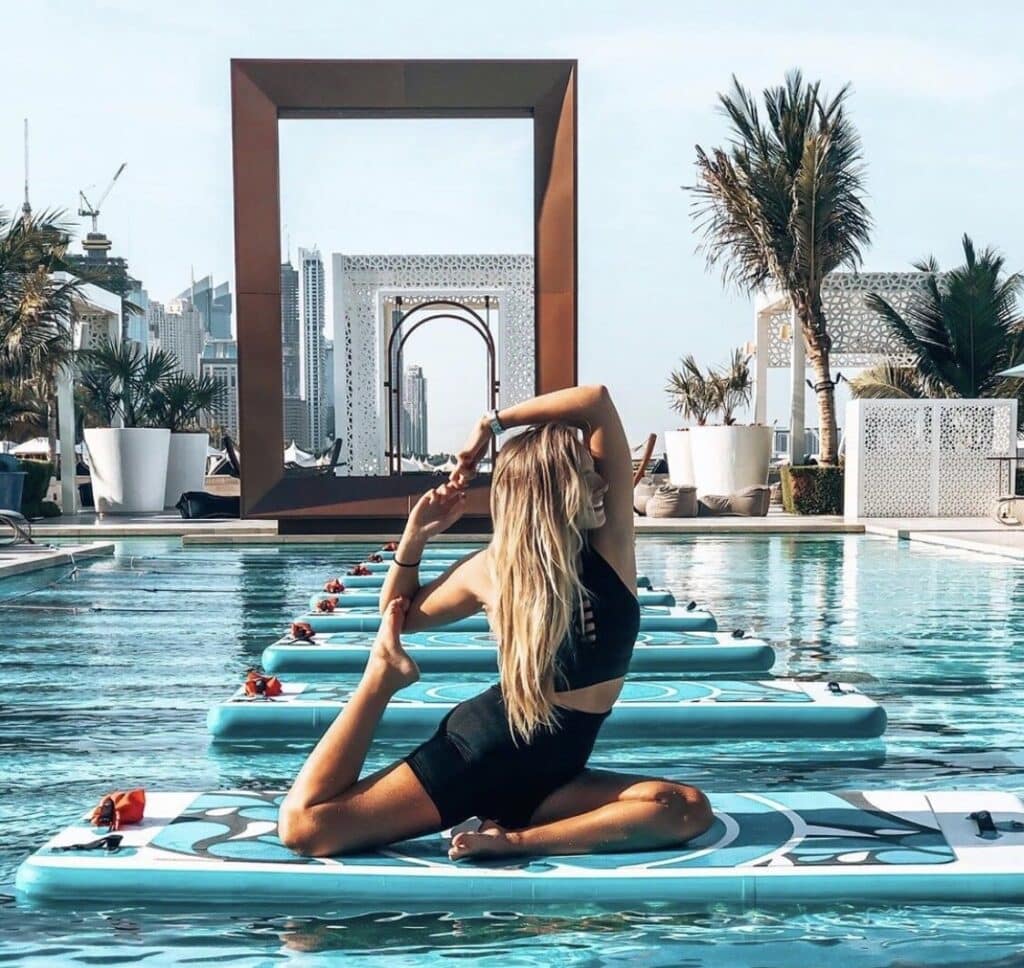 From Sunday through Thursday, ladies can avail discounts of AED 100 per person for beach and pool access. In this promotion, there is limited space, so we recommend reserving your space in advance. You'll not only get a comfy sun lounger to relax through the day on the beach, but you'll also be welcomed with a refreshing and fruity drink at 12pm. This promotion will not be available during festive periods such as EID, and public holidays.
Get Evening Experience for both Families and Couples.
Drift Beach provides an evening experience for both families and couples. The Drift Beach Club Dubai features a spectacular infinity pool, sun loungers and cabanas, so you can enjoy the best of both worlds: the beach or your own private retreat.
A Spectacular Infinity Pool, Sun Loungers and Cabanas.
DRIFT features a spectacular infinity pool, sun loungers and cabanas. The infinity pool has an area of approximately 150 square meters and a depth of 4 meters. The temperature of the water is between 33-34 degrees Celsius, so it's perfect for swimming or cooling down after playing volleyball in the sand.
The bar at Drift boasts a wide selection of tropical cocktails as well as wines from all over the world – so you can enjoy every moment without ever having to leave your lounge chair.
Accommodations in Drift Beach Dubai
The beach club also has private cabanas, which offer private plunge pools and can accommodate six or seven people. It is important to note, however, that reservations for these cabanas are highly recommended. DRIFT Beach Club has an excellent reputation in the area, and you'll definitely want to visit to experience the beach club's signature luxury amenities.
Drift offers two types of accommodations: beachfront villas with private pools (with views) or rooms with shared bathrooms on each floor; they both have their own terraces overlooking either the sea or lagoon side depending on which one you choose. A fourth option is to stay in one room with its own private bathroom but no balcony access; these rooms are located higher up just beside elevators leading directly outside.
All Day Dining Beach Club in Dubai
Drift Beach Dubai is an all-day dining beach club in Dubai. The restaurant serves up a range of modern Asian dishes, with an emphasis on fresh seafood and locally sourced produce. The food is fresh and healthy, and you'll find plenty of vegetarian options on the menu as well. There are also some great Asian beers and cocktails to try, along with an extensive wine list. Drift Beach Dubai is a great place to enjoy fresh seafood in Dubai. Drift Beach in Dubai is a great place to enjoy fresh seafood in Dubai. The restaurant serves up a range of modern Asian dishes, with an emphasis on fresh seafood and locally sourced produce. The restaurant also has an extensive wine list, so there's something for everyone.
Variety of Beachside Food
The restaurant at Drift Beach Dubai has a reputation for serving delicious and innovative food. Each dish reflects innovation. Its dishes focus on freshness, simplicity, and fine organic ingredients. The drinks menu is also innovative.
Drift beach Dubai menu
Drift Beach Club Dubai has everything you need! The club offers a wide variety of food options, from healthy snacks and juices to international dishes from the grill.
The venue also includes an outdoor bar where guests can enjoy drinks in cooler weather or during the winter months. There are plenty of places available inside if it's warm enough outside; but if it gets too hot during the summer, then move into their air-conditioned rooms.
Drift Beach Dubai offers the following activities:
Breakfast
Lunch
Dinner
Drinks
Historical Facts
The hotel's Beach Club opened six years ago, and features an outdoor bar, a temperature-controlled pool, and a café called Sophie's. In addition, the beach club also offers scuba diving, kayaking, and stand-up paddleboarding. You can make reservations for pool access and a sunbed, but you can also enjoy a day at the beach if you don't have a reservation.
ENVIRONMENT
The environment at the beach is so awesome, where you can relax, have fun, and enjoy yourself. You can spend your time with friends and family at the beach club or just by lying on the sand at sunset. The atmosphere of this place is perfect for everyone who likes to go out with friends or spend some time alone enjoying nature's beauty.
Drift Beach's Location and Contact Details
Drift Beach Club is located within One and Only resort. It is accessible via a short boat ride from mainland Dubai. Once you arrive, you need to cross the overhead bridge and go down a flight of stairs. Once you're down, you'll be greeted by One and Only security staff and directed to the beach club. Entry is AED 200 per day for weekdays, and this price includes use of sunbeds, towels, a seasonal fruit bowl, and bottled water. Furthermore, the price of drift beach Dubai may fluctuate during promotional and festive events.
Address: Drift Beach Dubai, JBR – Sheikh Zayed Road
Phone number: +971 4 435 9999
Website: www.driftbeachdubai.com
Email Id: [email protected]
Contact No.: +971 4435 9998
How to Reach Drift Beach Club Dubai by Public Transport
You can reach by bus and metro easily, following are the routes for bus and metro.
Bus Transit Lines: 8, 83, 84, and F55A
Metro: M1
Bus stations near Drift Beach Dubai
Knowledge Village Main Gates 01 & 02 (2 minutes' walk)
Dubai Knowledge Village Conference Centre – 02 (9 minutes' walk)
Schlumberger, Dubai Internet City—01 (5 minutes' walk)
Royal Mirage Hotel 1–01 (9 minutes' walk)