All You Need to Know Regarding the Highest Mountain of UAE
Touring in UAE i.e. United Arab Emirates can become one of the most memorable visits for you as a tourist. The views are breathtaking, unique sceneries are there, plus the availability of different activities will ensure that you enjoy each moment of your visit.
One such traveling point in the United Arab Emirates is known as Jebel Jais. It is literally the highest mountain located in Eastern side of Ras Al Khaimah. The mountain range where it is located was formed over 70 million years ago.
That being said, Jebel Jais offers much more to a tourist rather than just a tiring visit. You will get to enjoy different activities as the government of UAE has taken many steps to make a trip of this mountain as entertaining as possible.
So, as an explorer, we will be discussing Jebel Jais today in detail. From weather and temperature of this mountain to things you can do and enjoy, I will be stating each and everything so that you can make up your mind before you visit this amazing view.
Let's take a look without any further ado:
Weather in Jebel Jais:
Although the overall fluctuation of weather in UAE is hotter than normal especially for a foreigner, that is not the case when you visit JJ. This mountain maintains normal weather with a cool breeze blowing all the time.
One of the most fascinating sunrises happens in this mountain. That being said, as the time passes by, Jebel Jais becomes colder and night is when it gets chilly there. So, considering the forecast of this mountain, it is pretty sure that you won't be feeling hotter no matter at what time you visit it.
The moderate Jebel Jais weather, on the other hand, offers tourists and foreigners to enjoy different activities without any worries.
Jebel Jais Temperature:
The moderate weather of the tallest mountain in UAE, temperature range is different at different times. A cool breeze with gusty winds in the morning keeps the temperature of Jebel Jais lower than 15°C. However, it may rise from 12 pm to 3 pm and can go as higher as 25°C.
At night, there is yet again a fall in temperature of that area as there is chilliness in the wind. So, the temperature can get as lower as 17°C. If we take an overview of the temperature, it is extremely moderate considering the overall heat that UAE offers when you visit it.
Now that you've made up a mind of visiting one of the best places in UAE, I will be listing down some things to do in Jebel Jais. So, stay tuned if you need to explore the opportunity to explore this mountain:
7 Adventurous Things to Do In Jebel Jais
1. Enjoy the Longest Zipline Offered By Jebel Jais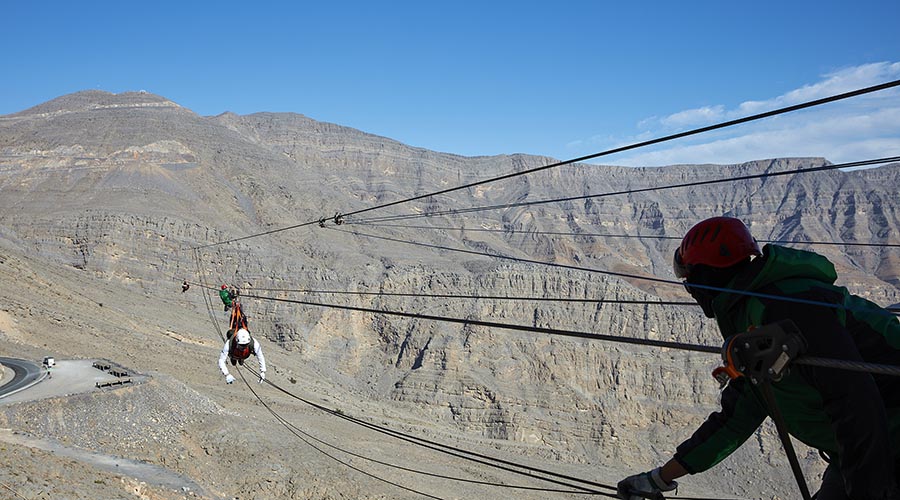 Jebel Jais being the highest mountain of Dubai offers the longest Zipline in the world for adventuring tourists. Keep in mind that this Zipline has been certified by World's Guinness Records as well.
So, the very first thing that you can enjoy here in Jebel Jais is the Zipline. Tourists who are fond of such adventures will be traveling at a speed of 140 to 150 Km/h, and that too at a height of 1,680 meters above the sea level. So, the excitement for people seeking thrill will be touching the heights for sure.
Don't you forget to miss that opportunity whenever you visit Jebel Jais.
2. Trekking at Jebel Jais Mountains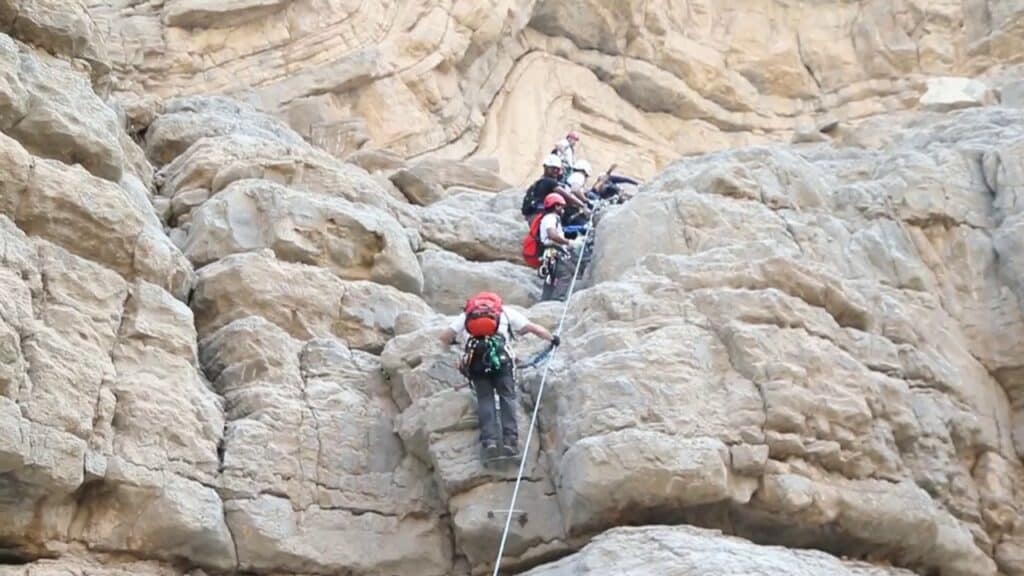 Jebel Jais Mountain also offers trekking adventures to the tourists who visit the place. Hiking trails have been maintained at the mountain to ensure that each tourist can fully explore this area. On the other hand, it also offers to understand the ecosystem of the mountain as you will be extremely close to nature while covering the trail.
The total distance of hiking trails is 16km which is divided into two segments i.e. upper and lower segments. Meanwhile, the administration is cooperating as you will be getting all relevant information from them regarding the trails.
So, in case you are with a family, you can thus take this opportunity to enjoy the surroundings of this mountain in the best possible manner.
3. Delicious Food with Breathtaking Mountain Views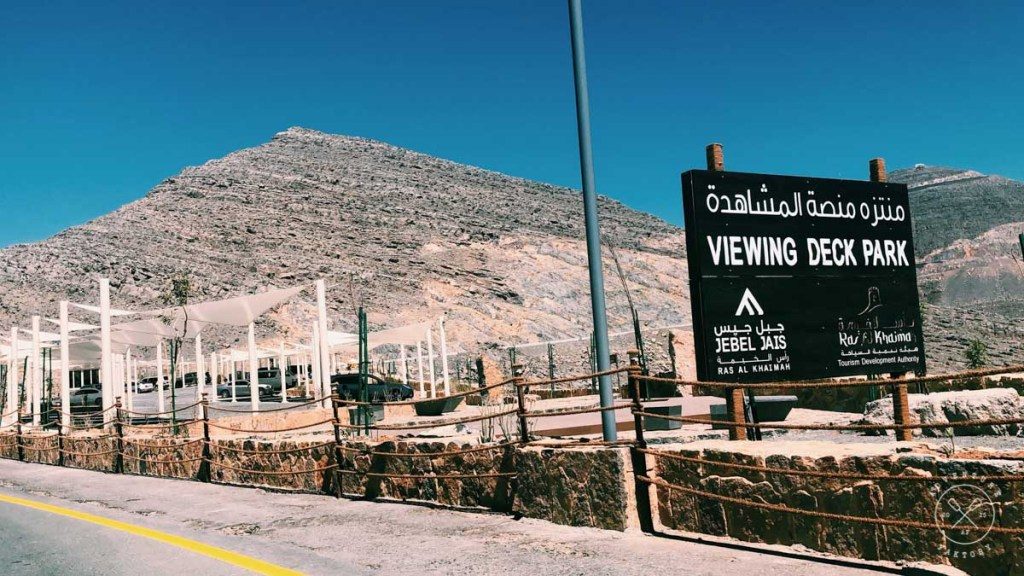 Each destination offers something unique when it comes to dishes and foods. Same is the case with Jebel Jais as there are different snack points present in this mountain range from which you can eat light snacks.
Talking about the Puro Express first, this snack point is present right in the mid of Deck Park. This small hut offers light snacks such as pastries, pizza, and salad, etc so that you won't waste your energy.
On the other hand, there is Muse Café available in the park as well. The café offers a variety of coffee such as cappuccino, latte, and chocolate coffee. Other than that, smoothies, etc are also available.
In short, while you are enjoying breathtaking views of the mountain, these snack points can become handy in boosting your energy level for a long time.
4. Cycling for Fitness Enthusiasts?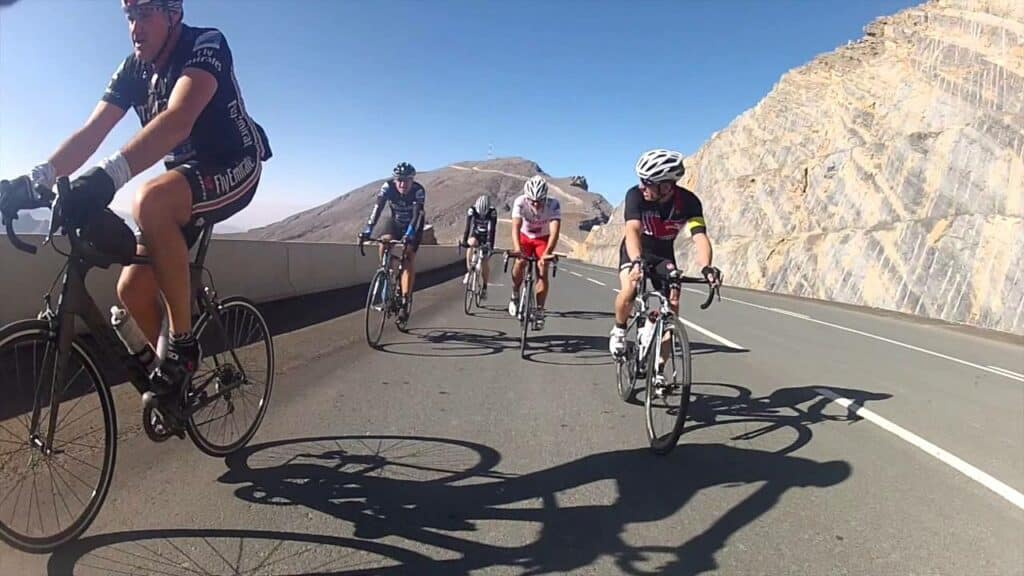 Fond of covering the whole Jebel al Jais mountain in a small time? If you are a fitness enthusiast and you like testing yourself for different exercises, then cycling is an opportunity that you should never leave.
Jebel Jais offers long paved roads on which you can cycle for as long as you want. However, the challenge isn't as easy as one might think. This mountain surely is going to test you regarding your stamina, passion and will to surpass your competitors.
So, if you are interested in taking a quick view of the tallest mountain of UAE, cycling is an option that you can utilize in this regard.
For cycling, different companies have got different packages both affordable and expensive. You can thus, choose a package of your personal preference to enjoy this adventure on Jebel Jais.
5. Sightseeing the Unique Views From Highest Point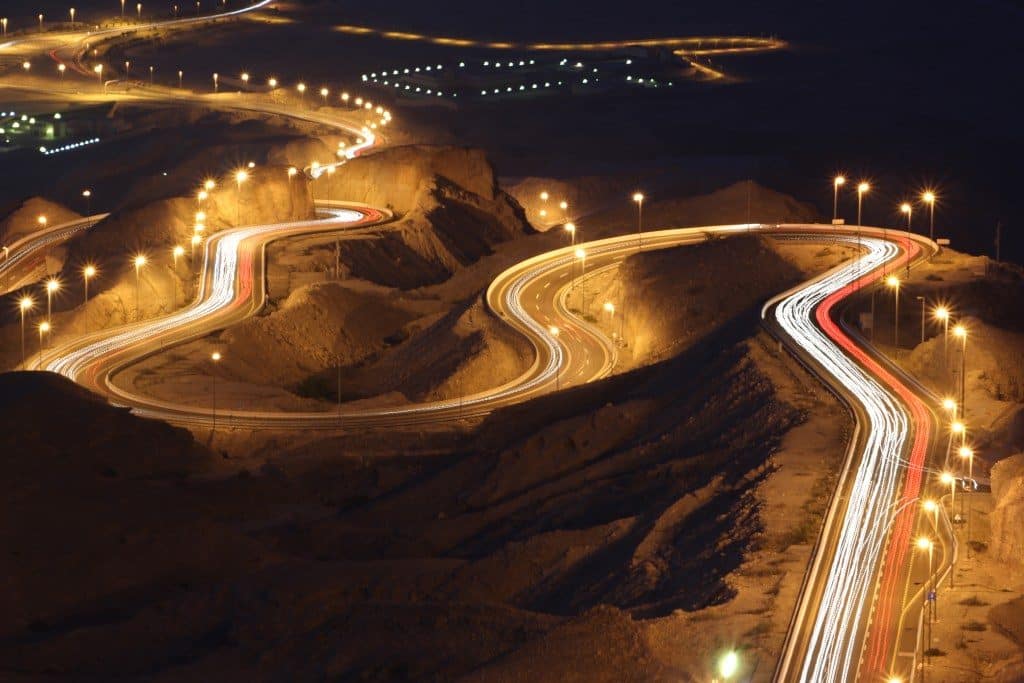 We all know that Jebel Jais is the highest mountain in UAE. Imagine if you top the mountain and look downsides. What will be the view? One can't even imagine it. So, to enjoy breathtaking sceneries from the mountain, you can rent telescopes or binoculars easily. Other than that, the place is perfect for photographers.
Better include your camera, lens, and all other relevant stuff if you are a photography enthusiast as you will be exploring UAE from a whole new perspective. Sightseeing gets perfect as the time passes by and we will recommend you to wait for the night as it will be full of surprises on Jebel Jais mountain.
6. Camping in Jebel Jais is Fun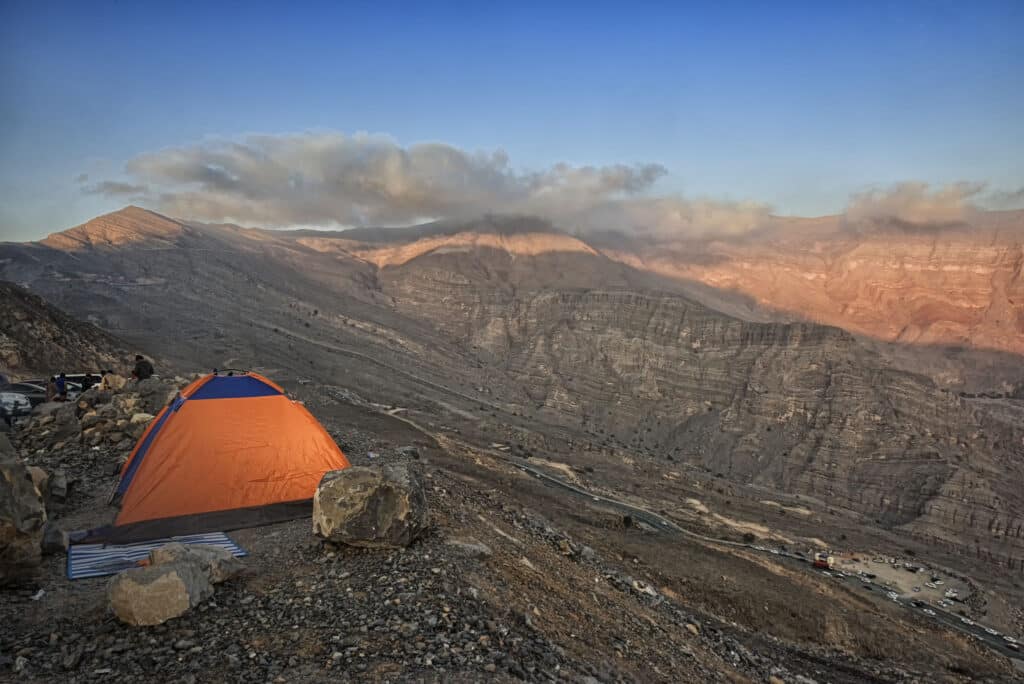 Want to spend a weekend in solitude while remaining close to nature? Jebel Jais being the highest peak of UAE offers you this opportunity. You can bring in your tent for camping.
So, if you need to spend the night at Jebel Jais, then there is nothing better than camping. Along with the warmth of the fire, you'll be enjoying a sky full of stars as you look up and a lit UAE as you see around your surroundings. Other than that, you will be able to make BBQ depending upon your preference as well.
Don't miss this activity especially if you are planning a weekend in this mountain range.
7. Ice Skating at Jebel Jais Ice Rink: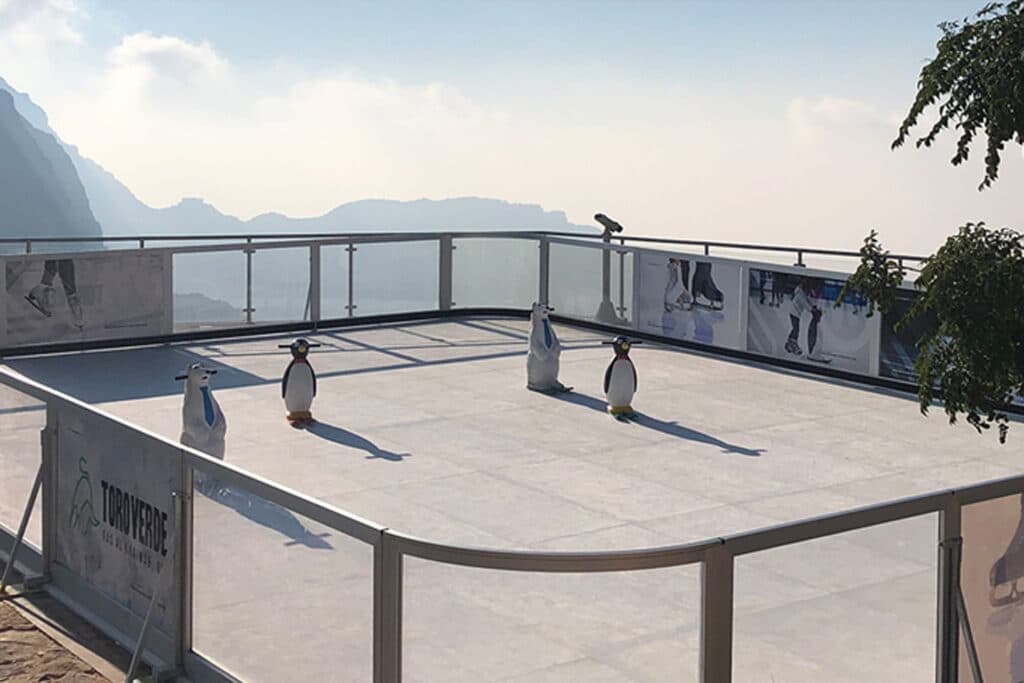 Sounds surprising? Well, it is. Right in the heart of this mountain, an ice rink has been added from the administration of Jebel Jais that offers you to skate for as long as you want.
The activity can be enjoyed right when the temperature is on the rise. That is, when the sun is right above your head, you can head towards the rink, pay the rent and enjoy skating as if there's been snow surrounding the whole mountain.
How Do I Get From Dubai to Jebel Jais?
Right after reading the awesome activities that I have mentioned above, I know that you are curious regarding the traveling procedure. Well, it's extremely easy if you reside in Dubai.
The quickest way from Dubai to Jebel Jais is via road while you have to drive your car. The total distance is 142km to be precise and it would take almost three and a half hours for you to reach your favorite destination.
Things To Keep In Mind Before Visiting Jebel Jais
Some important things that you should take care of before visiting the mountain range are as follows:
1. Driving will take you more than 3 hours to reach the mountain. So, make sure that your car is well-tuned and has enough fuel to avoid any hurdle that might come in way. Keep some snacks for the journey as well.
2. Keep in mind that Jebel Jais is a favorite tourist point where you'll see crowds of families especially during peak hours. So, if you really want to enjoy the scenic views of the mountain, try visiting it in off-peak hours.
3. Make sure that you have to bring clothes to keep you warm as you visit the mountain. The temperature falls as you go above. So, you'll need a sweater or a jacket to keep your body as warm as possible.
4. One thing to keep in mind before reaching Jebel Jais is that you won't find any supermarkets here. Hence, if you are thinking of camping or barbecuing, it will be better for you to take all the tools from home.
5. Sport shoes or sneakers are a perfect choice, especially for hiking. If you are considering to cover the mountain on foot, make sure that your footwear is comfortable and lightweight.
6. Activities like Ice-skating and zip lining are being managed by a company known as Toroverde Ras Al Khaimah. You can pre-book the activities online and the company's buses will take you to the dedicated location easily.
7. Beware of going to the mountain if you have Acrophobia [fear of height]. The mountain is not suitable for heart patients as well.
Some Last Words:
So, that would be all regarding one of the most fascinating tourist destinations in UAE and the world. In case you want to enjoy the world's fastest and longest Zipline from a huge height, along with other fun and adventurous activities, pack your bags and spend a weekend at Jebel Hafeet. It will be worth a try, to be honest.